Jun
13
Sun
Paces for PAWS Virtual 5K & Walking Challenge

@ https://www.pacesforpaws.org
Register
Jun 13 @ 12:00 am – Jun 26 @ 11:59 pm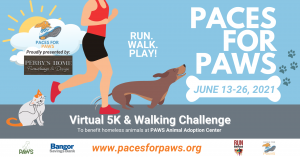 The Paces for PAWS Virtual 5K & Walking Challenge is the largest fundraising event of its kind benefiting animals in midcoast Maine. Walk or run, every step counts. Get in motion – register today to start saving homeless pets in our community. For more information or to register, visit www.pacesforpaws.org.
Register for the virtual 5K, the walking challenge, or both and you can help raise money for animals in need.
VIRTUAL 5K
June 13 – 26 , 2021
Run for the animals and do it on your own terms. Whether you choose to hit the pavement for a mile, 5K, 5 miles, or 10K, every step counts for dogs and cats in need. Don't forget, Paces for PAWS 5K is part of the Run Belfast 5K series. If you run this race, you are eligible for discounted registration for other races in the series.
VIRTUAL WALKING CHALLENGE
June 13 – 26, 2021
Tackle the Paces for PAWS two-week virtual walking challenge with friends and family or give it a try on your own. You set your distance goals, collect pledges, and save the lives of homeless pets every step of the way!
CONNECT WITH OTHER ANIMAL LOVERS
Virtual doesn't have to mean solo! If you have a smartphone or access to the internet, your Walking Challenge event registration comes with access to the Paces for PAWS MoveSpring app and online account. Chat with friends, share photos of you and your pet out walking and the sights you see, climb the leaderboard, earn badges, and connect any fitness tracker (or enter steps manually) to track your progress and move the virtual track with friends.
Paces for PAWS is proudly presented by Perry's Home Furnishings & Design. All proceeds will go toward supporting PAWS with continuing to provide shelter, food, and medical attention to animals in need of a helping paw and lots of love.
Register today! The sunshine is calling your name.
Jul
9
Fri
24th Edition 5K Road Race to Benefit Kennebunk Free Library

@ Kennebunk Free Library
Register
Jul 9 @ 6:00 pm
This year, we're hoping for the best of both worlds! We will be holding a virtual race from June 21 – July 7. You can run your own race course (or follow the traditional route) whenever it's convenient. We are also planning for an in-person race on July 9, with live music by the Kennebunk River Band!.
Registration is now open. We encourage you to register early to be one of the lucky 200 to get a t-shirt and goodie bag! All registrations can be used for either the virtual event or the potential in-person event – you don't have to choose until the week of the race. And, if you choose to run a virtual race and we are able to have an in-person event, you are still invited to the party!
Sep
10
Fri
17th Annual Safe Passage 5K – Virtual

@ Anywhere
Register

The 17th Annual Safe Passage/Camino Seguro 5K will again be held in September this year, from the 10th to 19th. We are building on the incredible success of the 2020 event which was postponed from May and was held "virtually" because of COVID-19. The virtual event was amazing! We had over 250 runners or walkers spread around the U.S. (15 states) and around the globe (6 countries)! Going virtual meant people could participate even if they weren't in the vicinity of Cumberland, Maine, or even on this continent. We surpassed our fundraising goal by over 60%!
Check out the video from last year's event: Safe Passage 2020 5K
We are keeping the virtual element for 2021 and encourage people to join us by running or walking during a 10-day period this September. If health conditions permit, we may add a small, in-person gathering in Cumberland on Sunday, September 19. Our goal will again be $20,000 (a target we hope to exceed).
Safe Passage was founded by Hanley Denning, a Yarmouth resident (and alum of Greely High School), to provide education, health and enrichment programs to students and families living in extreme poverty in the community of the Guatemala City garbage dump. It has since expanded into a full-day school and currently serves nearly 600 students and 300 families annually.